Meet HGTV's Matt Muenster
Matt Muenster received his degree in Interior Design from the University of Wisconsin - Madison and practiced design professionally for almost 10 years before a chance phone call sent his career in a bit of a different direction. A local producer looking for a designer to host a new renovation show opened the door to a whole new way for Matt to bring design into the world. You may know Matt best for his work over the past decade hosting shows on HGTV and DIY Network.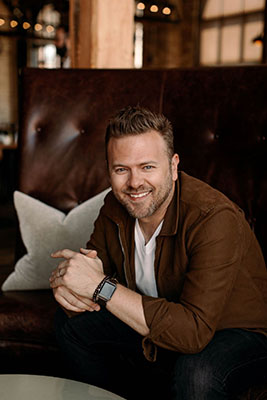 Q: What was your most memorable home project for yourself or work?
Matt: "Burning a tree tattoo into a wall of reclaimed barnwood during an episode of Bath Crashers in Austin, TX."

Q: If you could only use one which would you choose: Facebook, Instagram or Snapchat? Why?
Matt: "Instagram - Snapchat has never interested me and Facebook has lost its way with me. Insta is the fastest way to visually share whats happening with me."

You can follow Matt on Instagram at @mattmuenster. You should probably follow us too if you aren't - @homeshows.

Q: What are your best tips to help homeowners with curb appeal year-round?
Matt: "Maintenance. No matter what your yard/home has going for it, if it's not well kept - no one will be able to see it."
Q: What's the best way for homeowners to incorporate the latest trends into their décor? How can you tell what has staying power and what doesn't?
Matt: "I don't play in the world of trends. My philosophy is to listen to your gut when it comes to style - do what you like regardless of what some expert in a magazine says is currently cool. Then, execute. Do it well and no one will question why you did what you did."
Get more home advice from Matt Muenster when you see him LIVE at the Austin Home & Garden Show, August 23-25 at the Austin Convention Center. He'll be presenting Matt's Crash Course on our Main Stage Friday, Saturday and Sunday! Guests can talk through their home projects with Matt as part of a 10 minute one-on-one consultation. Don't miss your chance to get real advice from this HGTV and DIY Network expert!
Aug 15, 2019, 12:00 PM