Four Facelifts for Your Home in 2019
Just because it's August, doesn't mean it's too late in the year to give your home a little love. And while a full kitchen remodel might be beyond your capabilities (or budget), there are several "facelifts" you can do for various areas of your home to improve its appearance. Consider the following upgrades:
Kitchen Countertops and Backsplashes – A lot of time is spent in the kitchen, so it's important to have it be a welcoming, comfortable place. Two design details people always notice are the types of countertops and the design of the backsplash. As quartz becomes the new "gold standard" for counters, look at bargain-priced granite for an impressive-appearing upgrade. Backsplashes are easier than you think to install! Find a tile that compliments the rest of your kitchen and don't be afraid to embrace eye-catching patterns or colors.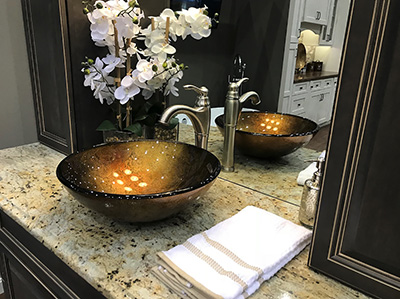 Bathroom Tops, Tiles and Fixtures – Another area to consider updating is your bathroom. Whether it's the master bath or a guest bathroom, these are places that can benefit from relatively small changes. Bright brass fixtures in every room? Look for "antique brass" as a trending alternative. While it still maintains the general aesthetic, antique brass provides a lived-in natural look.
Cabinet Makeover – Your home renovation list requires some tough prioritizing. Do you want new granite countertops or beautifully stained hardwood cabinets? A good compromise can be choosing to refinish your existing cabinets. If they're painted, consider stripping the paint off and staining them. Handles are easy and inexpensive to replace. A transformation doesn't require ripping your existing cabinets out, just a little reimagining.
Fresh Coat of Paint – Never (ever) underestimate the power of a fresh coat of paint! If your walls haven't been touched in several years, they've probably accumulated a layer of dust and grime that's keeping them from looking their best. If you don't want to change colors, no problem. Check to see if you have some of the existing shade. The difference will be noticeable!
Looking for more advice on projects to do yourself, or source out to a contractor? Local experts will be on-hand to answer any and all of your questions at the Austin Home & Garden Show, August 23-25 at the Austin Convention Center. Join us for a weekend full of home improvement ideas and inspiration.
Aug 16, 2019, 12:00 PM